Smooth Silk Repair Leave-In | Honey + Green Tea Extract | Heat Protectant | No Added Gluten
Regular price
Sale price
€17,95 EUR
Unit price
per
Sale
Sold out
Description

Benefits

Quick Tips

Key Ingredients
Using a leave-in routine in your everyday hair care, your hair will get stronger and healthier over time. You will be free from breakage and dryness when absorbing the protéins that your hair needs to become stronger and healthier. 
For Suggested Hair Types:

Dry, Tangled Hair & Protectant from Heat Hairstyling Tools
Great for detangling Human Hair Extensions and Wigs
An advanced, weight-free leave-in conditioner that provides UV and thermal protection. Strengthens, reinforces, and detangles. Alleviate scalp issues with Aloe Extract, and add brightness, luster, and body with Silk protein that helps bind moisture to hair, repair and strengthen while providing a protective barrier. Excellent with flat irons. Safe for natural texture, colored, straightened, chemically-treated and human hair extensions.
Moisturizer and humectant derived from honey  
Silk protein binds, restore and stabilize hair moisture while providing protection
Adds sheen, shine and clarity. Increases body, softness and beauty, enhancing hair texture, moisturizing and providing protection from thermal damage
SD Alcohol, sulfate, paraben, sodium chloride free
Spray over the entire head and comb after shampooing and conditioning.
Add additional styling products if needed. Proceed to dry.
Guar Hydroxypropyltrimonium Honey:
Is a wonderful conditioning agent derived from natural honey, which provides many of the same honey benefits for hair. Intensely hydrating moisturizer, nourishing antioxidants, and revitalizing and rebalancing the scalp. Provides a sensation of enduring humidity, deep conditioning and leaves the hair clean, light and with glossy shine. Lubricity will also be improved and the static control will increase, thus reducing friction and pulling during wet combs and flyaways from dry brushing. 
Hydrolyzed Silk: 
Silk protein, which binds moisture, fixes and improves the protective barrier when providing. Adds brightness, luster, and body.
Camellia Sinensis (Green Tea) Leaf Extract:
Providing a wide range of minerals, vitamins and amino acids, this is an important hair care product for healthy strands. Green Tea contains catechins that can help reduce dihydrotestosterone (DHT)–a hormone that induces hair loss, so it can help reduce hair loss.
Ascorbic (Vitamin C) Acid:
Serves as a mild clarifying agent in shampoo, as with many acids, and can be effective in helping to eliminate accumulated mineral deposits on the hair surface. It strengthens the hair's ability to accept moisture, making it smoother and more resistant to tangling and splitting. Vitamin C can be helpful for color preservation and the protection and integrity of the hair. Also, serves as a humectant and efficient moisturizer to hair products.
Methoxycinnamate - UV Absorber: 
Improves hair protection from the sun
Phytantriol: 
Enhances the body, softness, and smoothness, of the hair texture and moistures, and prevents heat damage.
Tocopheryl (Vitamin E) Acetate: 
Reverses frizzy damaged unmanageable hair into shiny luscious locks. Aids in the prevention of hair loss improving scalp circulation. Balances oil production while adding shine and supports a healthy scalp. Helps promote healthy scalp and hair, as it can help to sustain hair growth through a natural antioxidant effect. The antioxidant properties of the vitamin may help reduce oxidation and free radicals which cause a person's hair follicle cells to breakdown. 
Equisetum Arvense (Horsetail) Extract: 
Contains the mineral silica or silicon that reinforces your bones as well as your hair and nails. This mineral can not only make your hair healthy, but it can also enhance its shine and texture. Horsetail also includes selenium, a mineral that is important for proper hair growth as it allows the absorption of iodine in your body, which also controls hair growth.
Aloe Barbadensis Leaf Juice:
Relieves scalp itching, reduces scalp redness & inflammatory issues. Provides strength & luster to hair. The pH balancing promotes hair growth, healing scalps affected by Psoriasis & Seborrhea, and easily penetrates hair & contains seborrhea anti-fungal properties.
Secured and trusted checkout with:
Share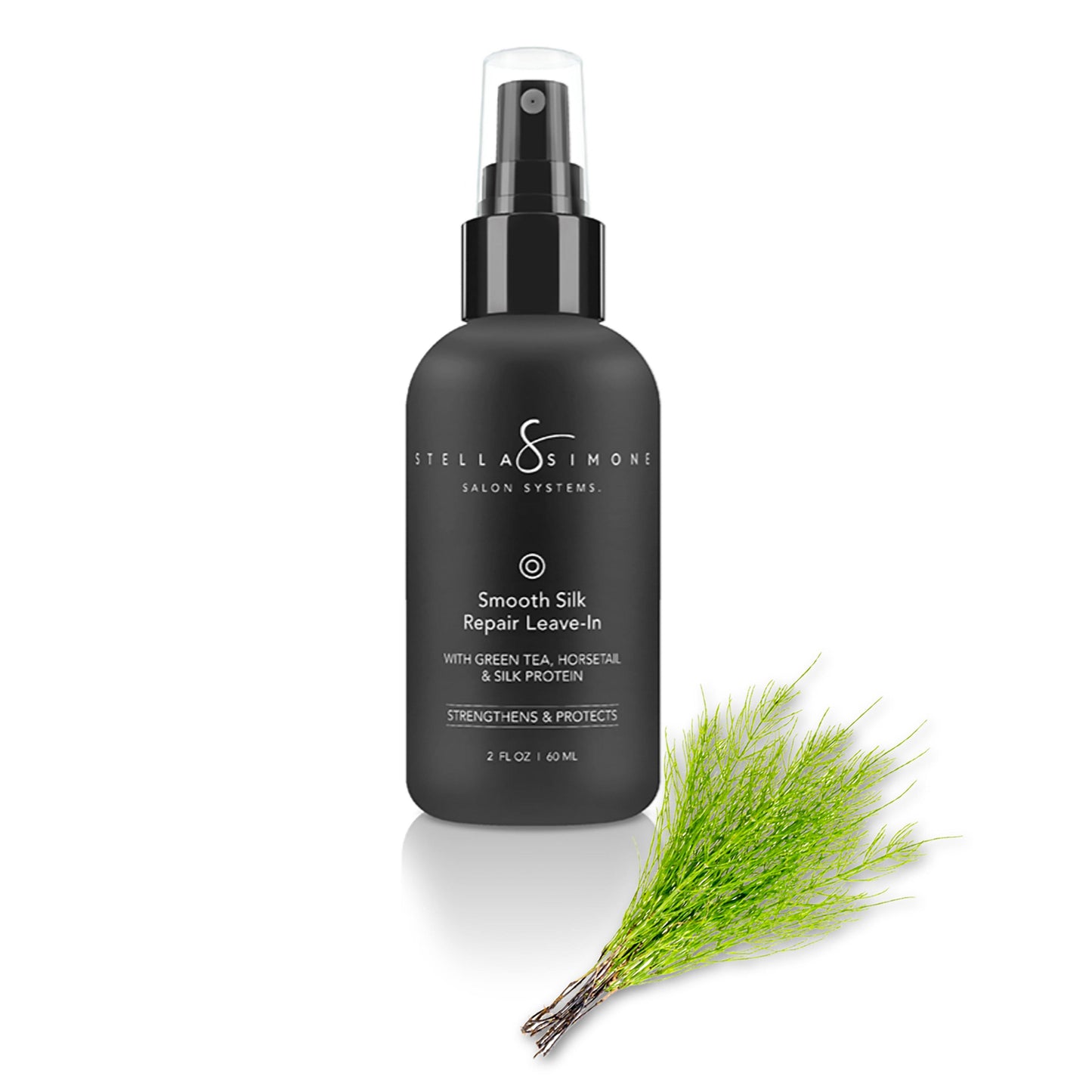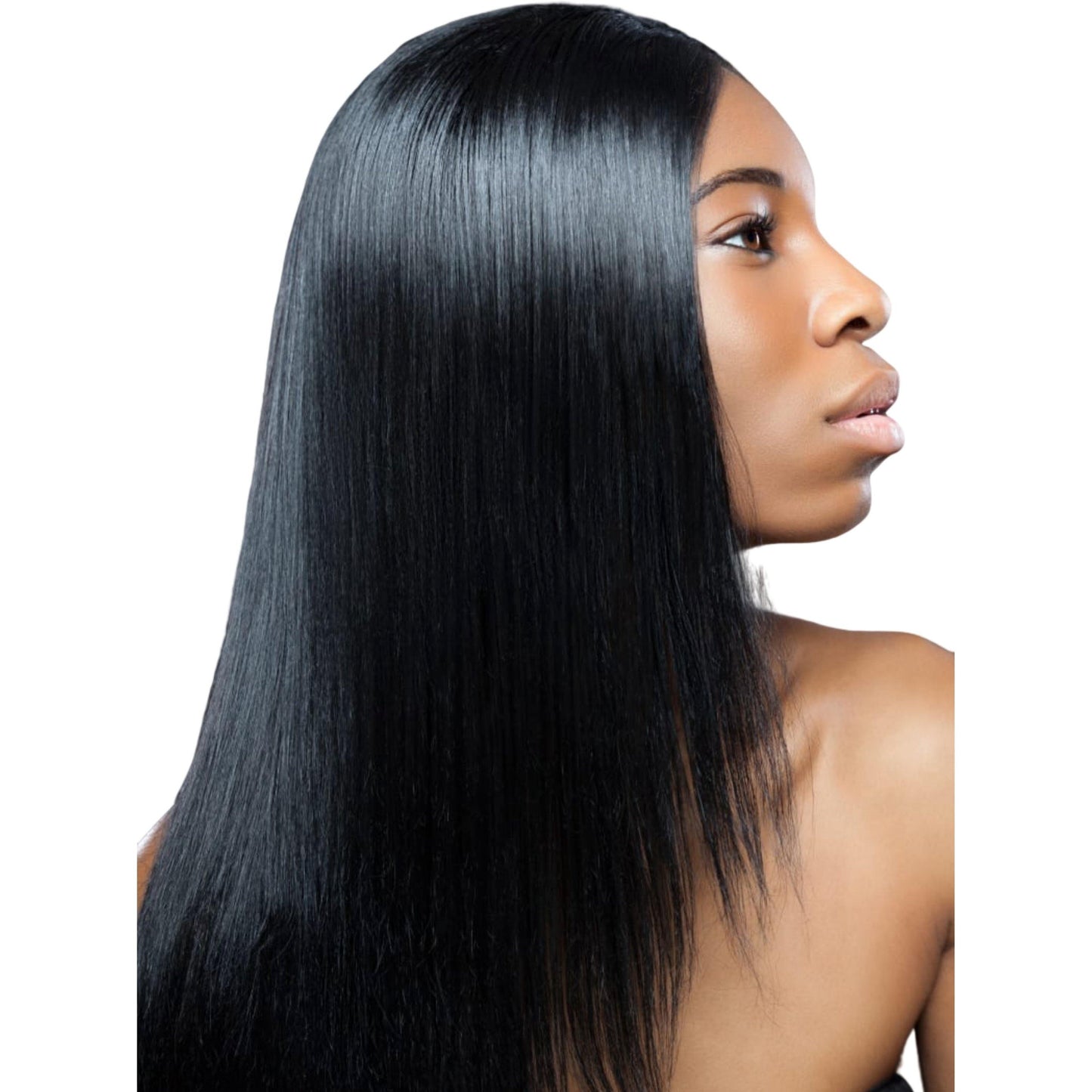 Oh, and still no frizz or flyaways after a week!
Well, I don't do reviews. But, my hairdresser received a sample of the Smooth Silk Repair Leave-In conditioner. I am not big on trying new hair products. But, I have to say, I am impressed! Right away, I noticed my hair was light, smooth, and bouncy. It also has a heat protectant, which I use a flatiron almost every day. Oh, and still no frizz or flyaways after a week!